2016 B.L.E.N.D Awards
October 21, 2016
We are proud to announce that two TreHus projects won 2016 B.L.E.N.D Awards for Addition/Remodel! The BLEND Award organization recognizes that redevelopment of the residential parts of the neighborhood is both a given and a positive indicator for the neighborhood.
Kenwood Park Remodel
A new porch was added to this 1905 home to give it a more attractive front façade and a stronger connection to neighbors and the outdoors. The porch design incorporated space for a new, generous entry vestibule to house all the functions of a mudroom in a more elegant setting. At the rear of the home, a new deck and staircase provides access to the exterior patio while creating space for a dining table. A tasteful privacy screen creates an intimate setting, and a chain downspout is used to deposit rain water into a new planter. The result of the project is a reinvigorated, more welcoming home with strong connections to the neighborhood in the front and rear, and with all projects designed and constructed in a way that honors the historic character of the home and its surroundings.
Click HERE for more photos.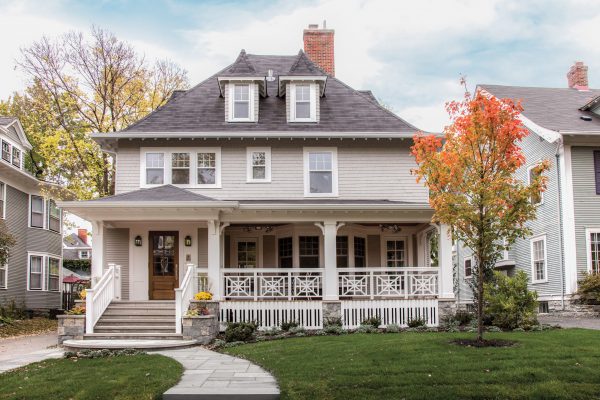 Creekside Craftsman Addition
The owners of this early 1900's Craftsman-style house, now feel like their home is a true match of the family's personality, and are thrilled they didn't have to give up the character they love. The addition's architectural details blend beautifully with the rest of the home and surrounding neighborhood. New brick and stucco were matched flawlessly to blend in with the existing exterior. Along the same lines, matching beadboard soffits and window mullions were chosen for historical accuracy. Before, the tiny room off the living room lacked purpose, now the addition holds a comfortably-sized study. A mix of soft colors, textures, and bold patterns in the living room enhance the quarter sawn oak trim and the client's collection of Arts and Crafts furniture. Large unused doors leading to the porch were replaced with high windows, allowing for a more functional seating arrangement.
Click HERE for more photos.