………………………………………………………………………………………………………………………………………………….
STYLISH COUNTERTOPS: HOUZZ ARTICLE FEATURE
October 6, 2022
In a feature article on Houzz, Designer Morgan Froemming was interviewed for our 'Interiors on Harbor' project to share her insight on how she used the countertops to create a dynamic kitchen look.
Morgan Froemming stated:
"The Homeowners wanted to maintain the existing footprint of the space while getting a more functional and timeless kitchen. We reconfigured their kitchen to have a more centrally located sink and relocated their existing windows to allow for more natural light in the space. We used rich wood stains throughout the main level while still keeping the kitchen light and airy. We used the same stain color on the floor as we did on the island, but the island intentionally appears to be darker since it is a vertical plane."
Read the full article to gain some more designer tips at 8 New Kitchens With Stylish Countertops (houzz.com)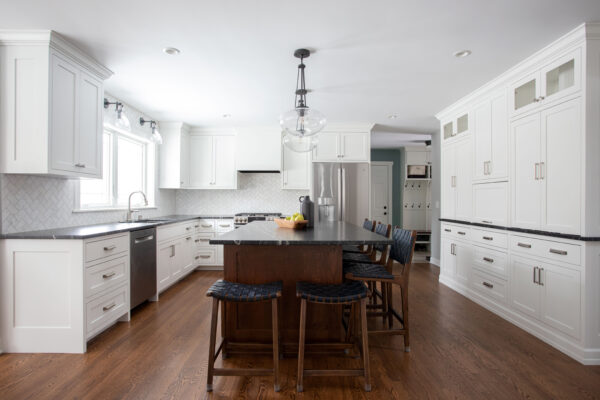 ………………………………………………………………………………………………………………………………………………….
HOME REMODELING: INTERIOR MOTIVE
June 11, 2019
The owners of a traditional-style home in St. Paul, Minnesota, adore their house, but they did not care for its interior design. Built in 1909, the residence had largely been preserved over the years other than a kitchen that underwent an ill-advised remodel in the 1990s. Pickled bleach cabinetry and a dark, cramped layout inhibited the active family of five and compelled them to seek a resolution.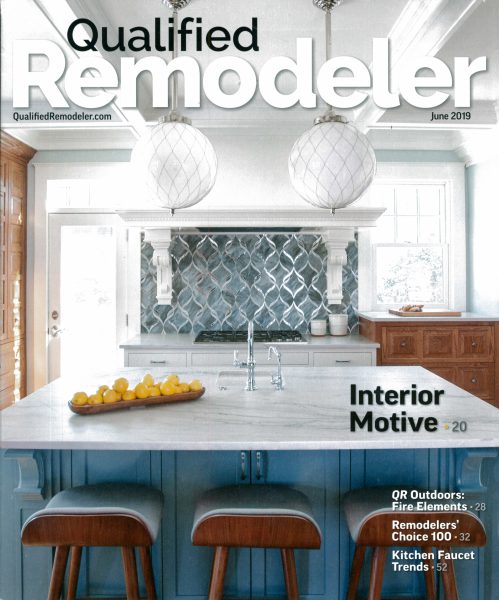 Read the article at www.qualifiedremodeler.com.
………………………………………………………………………………………………………………………………………………….
ARTISTIC EXPRESSION: THE 2018 ASID MN INTERIOR DESIGN AWARDS
January 23, 2019
"As a go-to source for homeowners looking to create their dream homes, the American Society of Interior Designers (ASID) is committed to creating interiors that fit clients' lifestyles while reflecting their individual personalities. Every year, local designers submit their top projects to ASID's Minnesota chapter for the chance to be recognized as one of the best by a panel of expert judges."
Gina Vozka, AIA, ASID, was awarded Best in Show for our 'Elegance on Summit' project, multiple rooms/entire residence (less than 1,000 square feet). Check out the project in Midwest Homes this month and other awards in the April issue!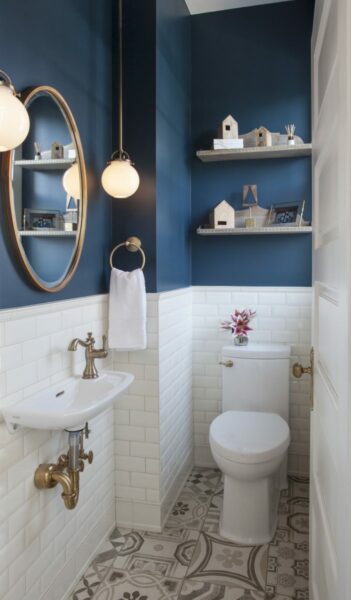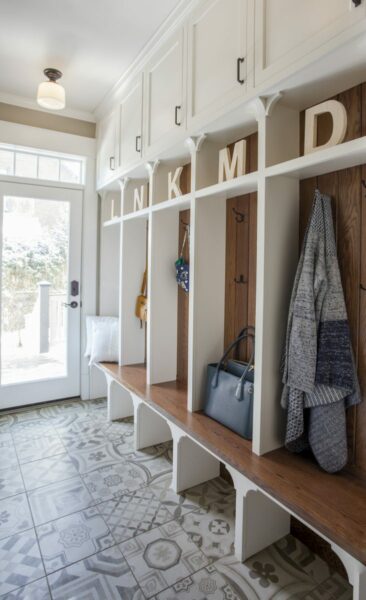 ………………………………………………………………………………………………………………………………………………….
MADELINE CHAMBER MUSIC
October 25, 2018
This year, TreHus decided to sponsor Madeline Island Chamber Music's 2018 fall fundraiser, the Chamber Music Cabaret.
This event raised funds to support scholarships and fellowships for student musicians attending the summer programming on Madeline Island. It included performances by a Madeline Island Chamber Music student quartet, as well as performances by Madeline Island Chamber Music alumni and faculty.
Madeline Island Chamber Music is devoted to educating and nurturing the next generation of musicians through concentrated study and performance of chamber music on verdant, historic Madeline Island in Lake Superior.
Check out their website for more information on the incredible things they are doing for out talented youths.
………………………………………………………………………………………………………………………………………………….
TREHUS LEGACY
August 27, 2018
That tradition and culture of craftsmanship, passed down from boat builders, is still practiced by TreHus (TreHus is a Norwegian word that means "house of wood"). Founded in 1982 by David Amundson, a descendant of Gus and Adolf, the company employs a unique system called the Master Carpenter System to ensure that their carpenters provide focused, dedicated craftsmanship to each and every project. Whereas the organizational details are handled by a Project Manager, carpenters are free to concentrate on their craft. This freedom allows TreHus carpenters to create esteemed works of beauty and lasting quality.
Today, TreHus has developed into a full-service design and build remodeling company. Together, they have over 115 years of combined experience from historical restoration, residential remodels or additions, to custom home building and interior design.
Of course, TreHus' expertise doesn't end with the design and construction of your remodeling project. Their longstanding reputation for unparalleled customer service means that they will be around well after your project is completed to address any needs that may arise.
………………………………………………………………………………………………………………………………………………….
CELLAR IN SUNFISH LAKE
May 11, 2018
This article from the Home & Garden issue of the Star Tribune tells the story of a Sunfish Lake basement that is transformed into a sophisticated wine tasting room. The owners wanted their wine room, located directly off the family room, to be a warm and inviting space that would draw in friends and for a glass of wine.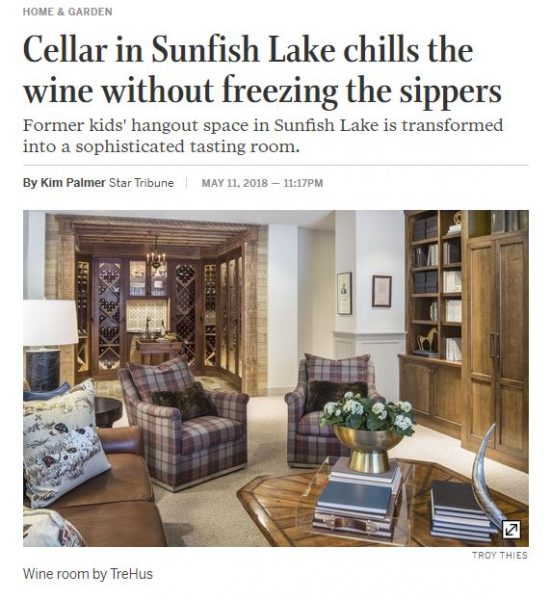 Read the article at www.startribune.com.
………………………………………………………………………………………………………………………………………………….
WINE SPECTATOR MAGAZINE
November 30, 2017
Our 'Sunfish Lake Lower Level Project' was featured in Wine Spectator Magazine.
Drinkers Wanted
"A St. Paul collector strikes a balance between refined design and grab 'n' go wine service."
"I wanted wine around me that I like and can enjoy with other people without getting too into the library, antiquarian aspect of wine collecting," says Tom Votel, of Sunfish Lake, Minn. "Our cellar was made intentionally small and practical. It was designed as a drinking cellar."
On that count, the space succeeds with aplomb. The open design trades clinical glass panels and vaultlike aesthetics for an accessible, welcoming appearance, enabling an easy flow from serving station to sitting area to patios. Climate-controlled cabinets and an ingenious air-vent system moderate temperatures across the room, keeping Chardonnays racked on the left cooler than Cabernets on the right.
TreHus, the Minneapolis-based architects the Votels contracted, had constructed several traditional home wine cellars, but never anything like Votel's horseshoe-shaped storage-and-serving hybrid facing out on a room for family gatherings and social events. "They were up for the challenge," Votel says of TreHus. "It ended up being beautiful."
………………………………………………………………………………………………………………………………………………….
2017 BEST OF POWDERHORN
October 25, 2017
The community voted, and we won Best Home Improvement Award, 2017 Best of Powderhorn! The Powderhorn Park Neighborhood Association partnered and WomenVentures, actively and creatively promotes local businesses.
Check out the rest of the winners on the Powderhorn Business Program!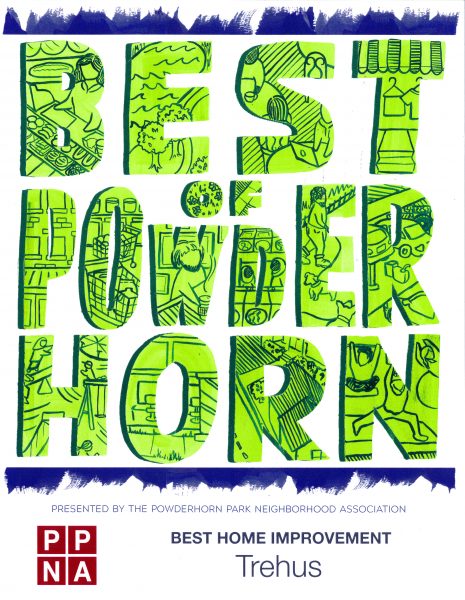 Artwork by Cori Lin
………………………………………………………………………………………………………………………………………………….
B.L.E.N.D. AWARDS
October 9, 2017
We are excited to announce that TreHus has been awarded a B.L.E.N.D Award for the ninth time! The B.L.E.N.D Awards recognize, encourage and reward builders, architects, and homeowners to blend newly remodeled or constructed homes and businesses into the fabric of Minneapolis neighborhoods. Big thanks to everyone who worked on the project, job well done.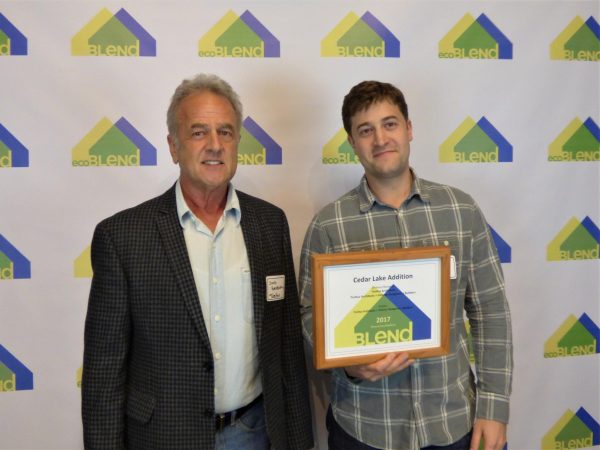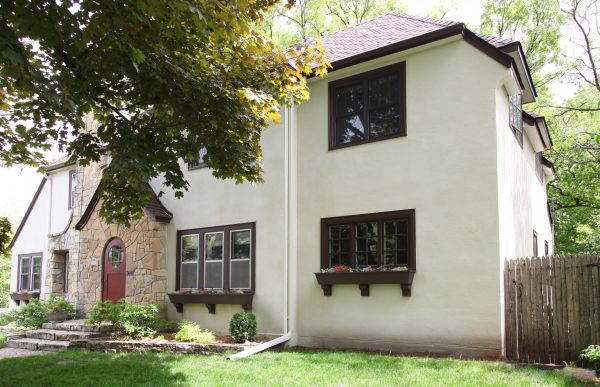 2017 B.L.E.N.D AWARD: RENOVATION/ADDITION
………………………………………………………………………………………………………………………………………………….
SCANDINAVIAN AT HEART
June 7, 2017
We were featured on the front page of the Southwest Journal Home Guide highlighting our project 'Kenwood Park Remodel'!
"Swedish minimalism meets functionality in Kenwood."
TREHUS TURNS A 'COMPLETE MESS' INTO AN AWARD-WINNING REMODEL
by Jahna Peloquin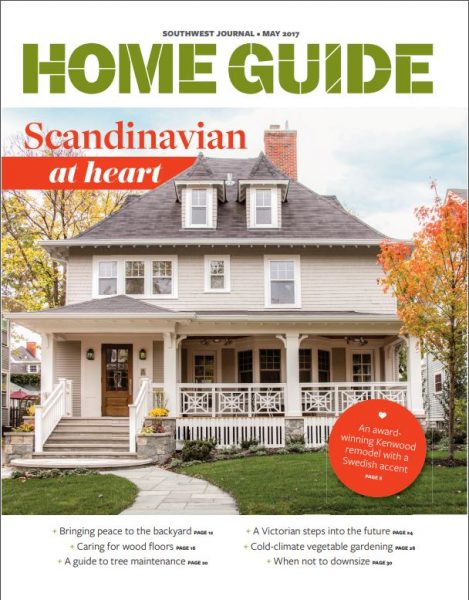 'It is more than being passionate about the details of design and craftsmanship. It's about the study and reflection of your lifestyle, perceptions of what is important to you, and transforming those ideas into something inspiring.'
………………………………………………………………………………………………………………………………………………….
2016 C.OT.Y AWARDS
December 6, 2016
TreHus is honored to have received two CoTY (Contractor of The Year) Awards for our work on our residential projects! Thanks to all of the talented people who worked on these remodels, and to the owners of these beautiful projects.  See below for more photos of these winning projects and visit our awards page to see other awards TreHus has won over the years.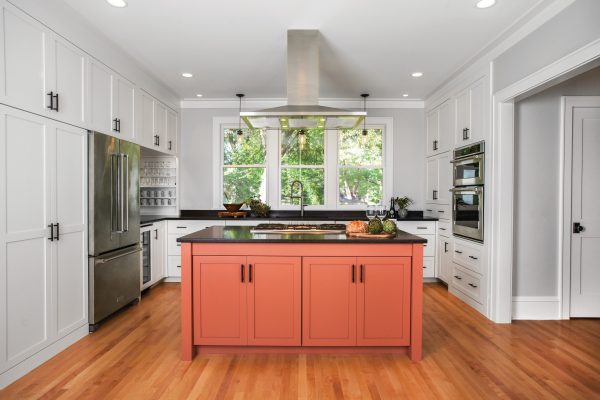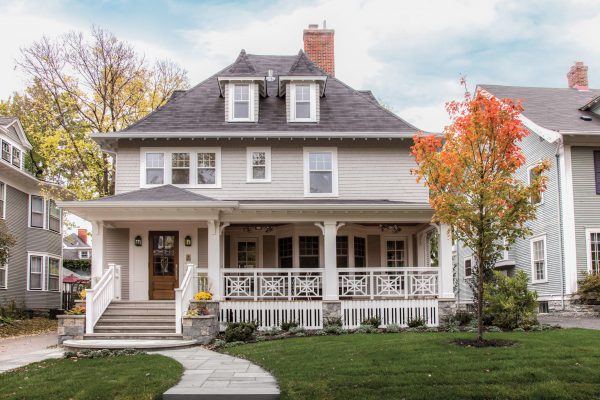 Click HERE for more photos.
………………………………………………………………………………………………………………………………………………….
TREHUS FEATURED ON HOUZZ AS THE 'ROOM OF THE DAY'
December 5, 2016
Houzz writes about the Minnesota wine room conveniently located next to the family room is designed to draw a crowd.
Wine rooms or cellars are usually enclosed, climate-controlled spaces for quiet, intimate tastings of the wine enthusiast's favorite vintages. The owners wanted their wine room, located directly off the family room, to be a warm and inviting space.
The space was previously a wet bar and kitchenette, so the plumbing was already in place for its transition to a wine room. TreHus senior project manager Dave Carson and his team created a space where guests could peruse the extensive wine collection, open up a bottle and then take a glass back to the family room.
The custom wine cabinets are refrigerated, with airtight seals surrounding the quarter-inch tempered-glass doors. A ventilation and temperature control system allows the homeowners to ensure that the various cabinets are kept at the appropriate temperature for the different wine varietals. The ceilings and walls are insulated to add even greater temperature control.
The wine room's cherry cabinets have LED lighting on the top and bottom for easy viewing. The clients requested a wine barrel in the room. Carson and his team found a barrel, cut it in half to insert sink plumbing and fastened it to the wall. Reclaimed-wood ceiling beams sit below a tongue-and-groove ceiling that was distressed to make it look aged. The countertops are granite, the floor is slate laid in a random staggered pattern, and the backsplashes below the liquor and glassware cabinets are clad in field tile from
Encore Ceramics
. Martha O'Hara Interiors found the cheese table and the bronze chandelier to add to the wine room's old-world ambience.

………………………………………………………………………………………………………………………………………………….
2016 B.L.E.N.D AWARDS
October 21, 2016
We are proud to announce that two TreHus projects won 2016 B.L.E.N.D Awards for Addition/Remodel! The BLEND Award organization recognizes that redevelopment of the residential parts of the neighborhood is both a given and a positive indicator for the neighborhood.
Kenwood Park Remodel
A new porch was added to this 1905 home to give it a more attractive front façade and a stronger connection to neighbors and the outdoors. The porch design incorporated space for a new, generous entry vestibule to house all the functions of a mudroom in a more elegant setting. At the rear of the home, a new deck and staircase provides access to the exterior patio while creating space for a dining table. A tasteful privacy screen creates an intimate setting, and a chain downspout is used to deposit rain water into a new planter. The result of the project is a reinvigorated, more welcoming home with strong connections to the neighborhood in the front and rear, and with all projects designed and constructed in a way that honors the historic character of the home and its surroundings.
Click HERE for more photos.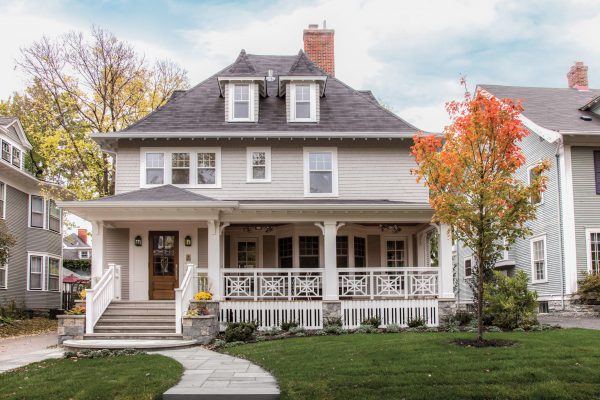 Creekside Craftsman Addition
The owners of this early 1900's Craftsman-style house, now feel like their home is a true match of the family's personality, and are thrilled they didn't have to give up the character they love. The addition's architectural details blend beautifully with the rest of the home and surrounding neighborhood. New brick and stucco were matched flawlessly to blend in with the existing exterior. Along the same lines, matching beadboard soffits and window mullions were chosen for historical accuracy. Before, the tiny room off the living room lacked purpose, now the addition holds a comfortably-sized study. A mix of soft colors, textures, and bold patterns in the living room enhance the quarter sawn oak trim and the client's collection of Arts and Crafts furniture. Large unused doors leading to the porch were replaced with high windows, allowing for a more functional seating arrangement.
Click HERE for more photos.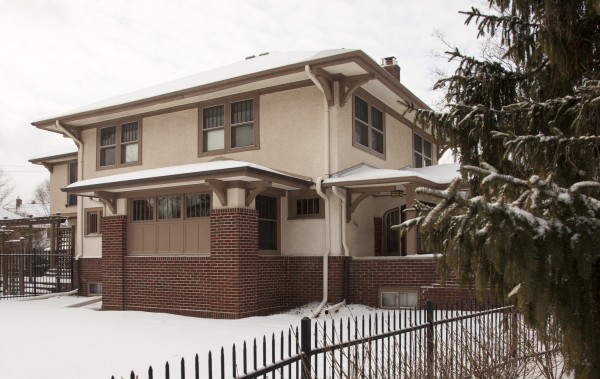 ………………………………………………………………………………………………………………………………………………….
WELL BALNCED REMODEL
March, 2016
Our Kenwood Remodel was featured in This Old House Magazine!
"The 1905 house was water damaged, structurally unsound, and weary throughout—until dogged new owners got it back on its feet"
Read the article here and let us know what you think! www.thisoldhouse.com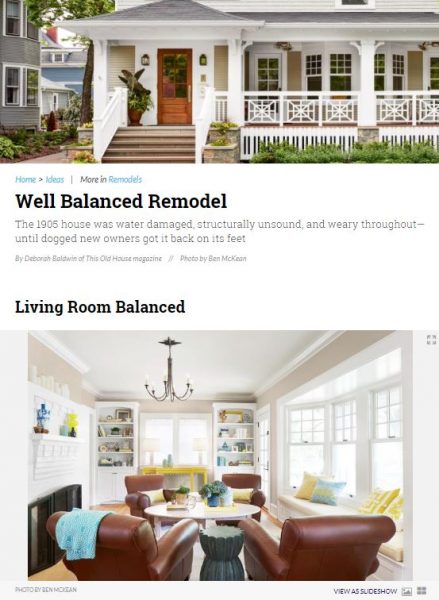 ………………………………………………………………………………………………………………………………………………….
2016 BEST OF HOUZZ
January 12, 2016

For the fourth year in a row, TreHus has been awarded 'Best Of Houzz' for Design by Houzz! Houzz is the largest residential design database providing over 35 million people with everything they need to improve their homes. Thank you Houzz, homeowners and design enthusiasts! Visit us on Houzz at http://www.houzz.com/pro/trehus/trehus-architects-interior-designers-builders
………………………………………………………………………………………………………………………………………………….
2015 COTY AWARDS
December 14, 2015
TreHus is honored to have received four CoTY (Contractor of The Year) Awards for our work on both residential and commercial projects! Many thanks to all of the talented people who worked on these remodels, and to the owners of these beautiful projects.  See below for a few photos of the winning projects and click a photo to see more pictures of a particular project.  Visit our awards page to see these and other awards TreHus has won over the years.
………………………………………………………………………………………………………………………………………………….
2015 B.L.E.N.D AWARD – COMMERCIAL REMODEL
September 29, 2015
TreHus is proud to have received a B.L.E.N.D Award for our Commercial remodel on Hennepin Ave. The B.L.E.N.D Awards recognize, encourage and reward builders, architects, and home owners to blend newly remodeled or constructed homes and businesses into the fabric of Minneapolis neighborhoods. 700-718 Hennepin were originally two separate buildings, which have now been combined and renovated. A light industrial warehouse and auto shop,were converted into a workshop, gallery and garage, giving the owner the ultimate work/play space. The result of the combined projects is a historically accurate restoration of a previously dilapidated and neglected building.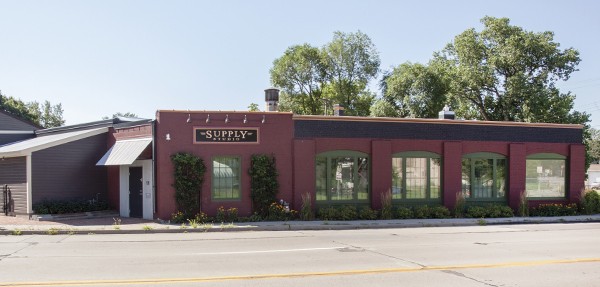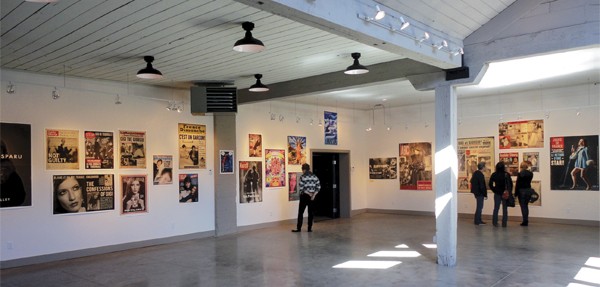 Click here for more photos.
………………………………………………………………………………………………………………………………………………….
HOMES BY ARCHITECTS TOUR 2015 – LAKE MINNETONKA MODERN
September 14, 2015
Join us September 19-20 on the Homes by Architects tour!
Designed by Dan Feidt Studio and built by TreHus.
Times: Sept. 19-20, 10am-5pm both days
Tickets: available at homesbyarchitects.org or at the door.
Please see AIA's website for more information: AIA Homepage and for more photos, visit our Lake Minnetonka Modern page.
Set along the shores of Lake Minnetonka, this home's new butterfly roof with transom windows creates a modern coastal statement. The pine ceilings carry through to the exterior soffits, creating one continuous plane. Generous windows and a neutral color palette bring nature into the space, further adding to the feeling of modern, simple beach living.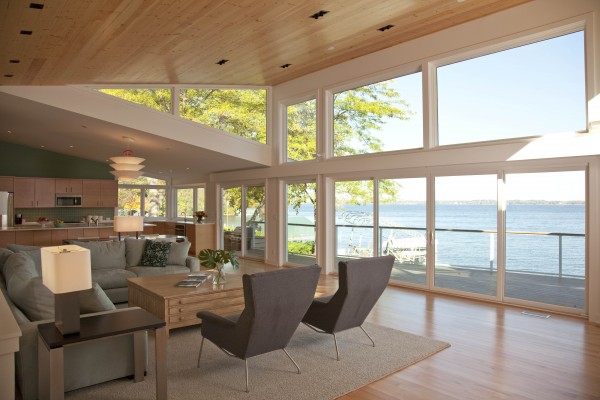 ………………………………………………………………………………………………………………………………………………….
HOUZZ ARTICLE FEATURE: 'CREATIVITY-BOOSTING SPACE'
March 14, 2015
We've been featured on Houzz for our project 'Kid-Friendly Basement'! Check out #4 to see the creativity-boosting space we created.
………………………………………………………………………………………………………………………………………………….
2015 BEST OF HOUZZ
Janurary 20, 2015

For the third year in a row, TreHus has been awarded Best Of Houzz for Design by Houzz, the leading online platform for home remodeling and design. Projects within our portfolio are some of the most popular among the more than 25 million monthly Houzz users! Thank you Houzz, and thank you Houzzers! Click on the badge below to visit us on Houzz.


………………………………………………………………………………………………………………………………………………….
2014 REMODELERS SHOWCASE THIS WEEKEND
September 24, 2014
The 2014 Remodelers' Showcase is happening this weekend! Stop by and tour this newly remodeled home designed and built by TreHus. TreHus transformed this Edina home's unwieldy mix of styles into appealing cottage charm. The home's exterior boasts rich textural quality with a new porch addition and a combination of stone and lap siding. The new kitchen opens up to allow for better flow and to take advantage of the beautiful lakeside view. A grid motif and black and white palette repeats throughout the space in the marble and stainless steel tile back splash, wallpaper accent wall, kitchen cabinets and fireplace wall. This thoughtful balance between playfulness and sophistication paired with the warmth of the large kitchen island and light blue walls create a soft, relaxed cottage feel. For more information about the home, please visit our Showcase page.
Open Friday, Sept. 26 from 1-7pm, and Saturday – Sunday, Sept. 27-28 from 12-6pm.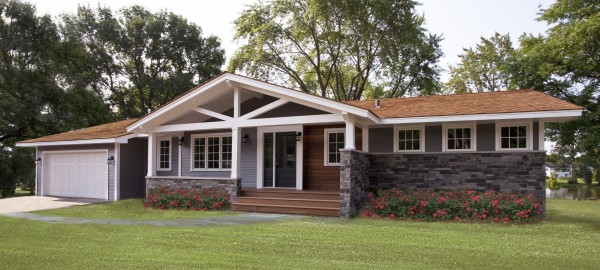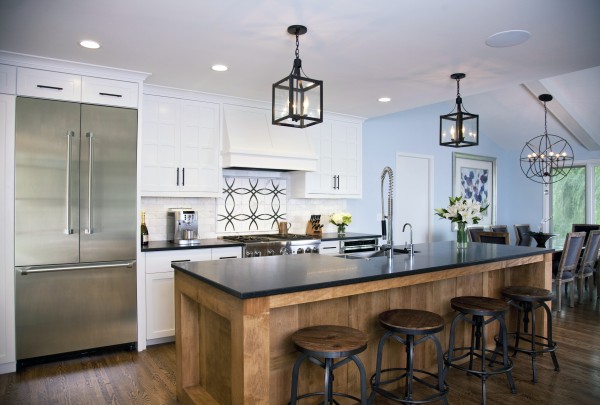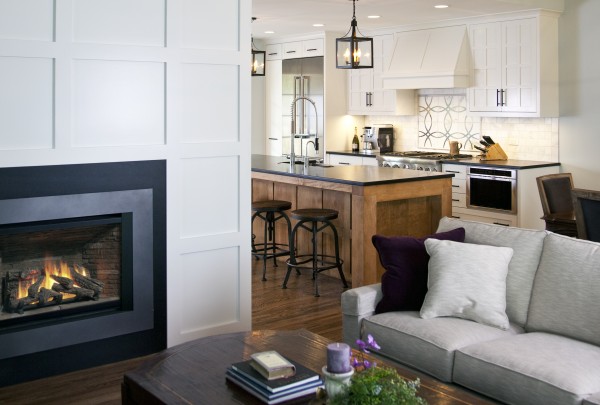 ………………………………………………………………………………………………………………………………………………….
TREHUS WINS THREE 2014 CHRYSALIS AWARDS
August 15, 2014
TreHus projects won Three 2014 Chrysalis Awards – one for a basement remodel in Edina, one for a kitchen & interior in Tangletown, and one for a kitchen in Lowry Hill. TreHus has won 18 Chrysalis awards since we first entered in 2004, and this is our 8th consecutive year with at least one winner. Many thanks to all of the wonderful people who worked on these projects, and to the owners of these homes!  See a few photos below, or click here to visit a page with more photos.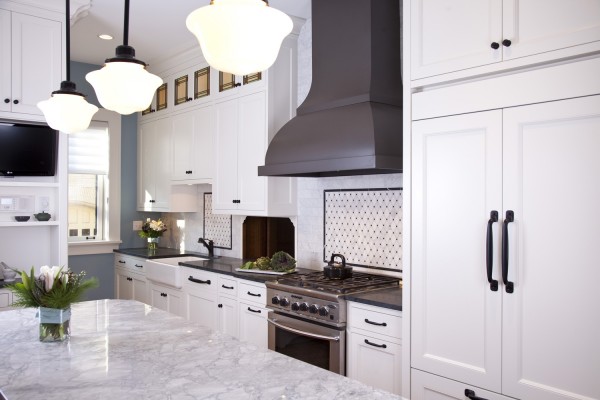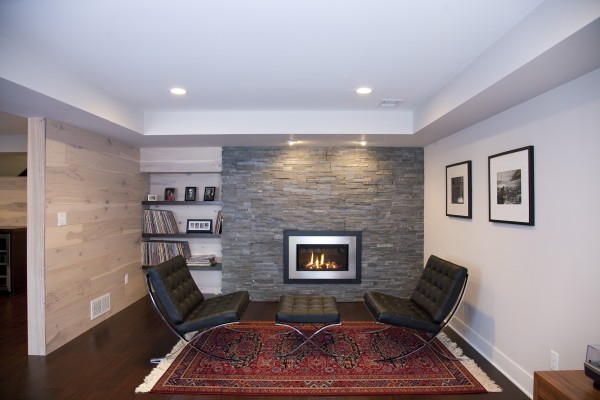 ………………………………………………………………………………………………………………………………………………….
TREHUS IN EARLY HOMES MAGAZINE
November, 2012
The cover of the Fall-Winter issue of Early Homes Magazine shows a snapshot of a kitchen designed and built by TreHus. It is a country style kitchen with a blue hutch, a white marble-topped island, red stools and a red mudroom. The colors play together to create a nostalgic, homey feeling with character built into every inch. The design is simple but complete, with nothing extra and nothing missing. Read the article below or go to oldhouseonline.com.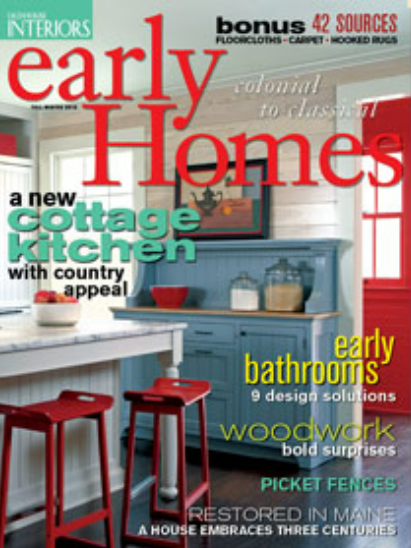 ………………………………………………………………………………………………………………………………………………….
PROFESSIONAL REMODELER: 'BOTTOM TO TOP'
April, 2012
Professional Remodeler Magazine featured this TreHus project in the Project Spotlight section of their April 2012 issue. It tells the story of the transformation of a split-level to a beautiful two-story home with a contemporary flair, ample amenities, and a river view.

………………………………………………………………………………………………………………………………………………….
ISLAND OF TRANQUILITY
November, 2012
A 110 year old Victorian home needed remodeling – a new kitchen, addition, and family room. During the planning process, the owner, an avid woodworker, decided he wanted to make the island himself. The asian-influenced style of the island and other furniture he had made throughout the home was carried through to the design of the rest of the project, making it not only a beautiful, light, open space but uniquely theirs.
From the February 2011 issue of Spaces magazine.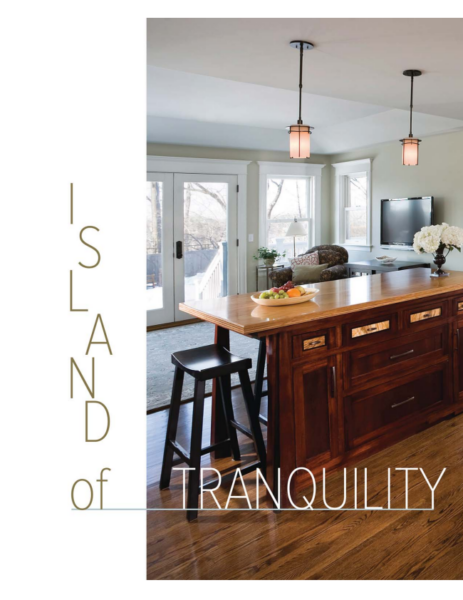 ………………………………………………………………………………………………………………………………………………….
COUNTRY COTTAGE IN THE CITY
November, 2011
This editorial in the Winter 2011 issue of Artful Living tells the story of a man caring for his home. From moving the home to save it from demolition to hiring TreHus to renovate it along the guidelines of the Minnesota Historic Preservation Commission, great efforts were needed to make this home into the beautiful sanctuary that it is today.
For more information about and photos of this project, visit its whole house gallery.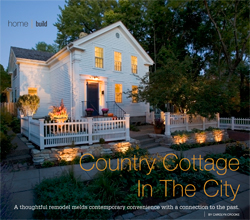 ………………………………………………………………………………………………………………………………………………….
TREHUS WINS TWO 2010 CHRYSALIS REGIONAL AWARDS
December, 2010
This year TreHus projects brought home another two Chrysalis Regional Awards, in the Additions $100-250,000 category and in the Residential Exterior category.
"This is now the fourth consecutive year in which TreHus has won a Chrysalis award, and the third consecutive year in which they have won in multiple categories. This demonstrates their versatility and their ongoing commitment to excellence," said Ken Kanline, director of the awards.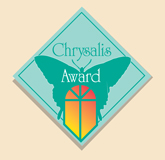 ………………………………………………………………………………………………………………………………………………….
ARTISTIC COLLABORATION – A 1920S MASTERPIECE RESTORED
December, 2010
This article in the Winter 2010 issue of Artful Living Magazine tells how TreHus took the masterwork of a 1920's architect and tactfully reshaped it to meet the needs of its owners while staying true to the character of the home. "It's beautiful and just a bit quirky," said the owner, "Our goal has always been to build this for us, and you make different decisions compared to somebody who just wants to flip it. We've gone for quality and timelessness."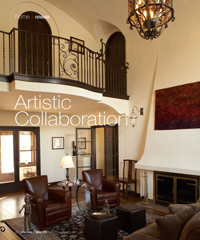 ………………………………………………………………………………………………………………………………………………….
PHASED IN – CHANGING LIFE, CHANGING SPACE
April, 2010
This article from the Early Spring 2010 issue of Mpls./St. Paul Home Magazine tells how a Linden Hills resident changed his space to fit his changing life. From building the famous Wild Rumpus bookstore, to creating the perfect bachelor pad, to adding on to make room for a family, he slowly and respectfully transformed his historic building to meet his needs and those of the community.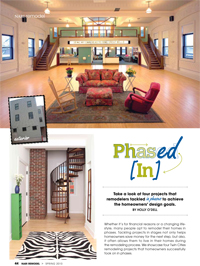 ………………………………………………………………………………………………………………………………………………….
SPACE EXPLORATION – A FAMILY OF 6 PLUS PUPPIES
March, 2010
Featured on the cover of the February/March 2010 issue of Spaces Magazine is this TreHus project. "Two sets of twins, 9 and 5 years old, and two 1-year-old puppies will crowd any house." Our clients wished for "More spaces to hide, read a book, play the piano or take a nap. We wanted space that allowed the kids and dogs to run wild. We wanted to be able to live in each space and maintain the warmth of the house."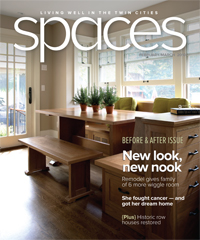 ………………………………………………………………………………………………………………………………………………….
TREHUS WINS 2009 MN CONTRACTIR OF THE YEAR (COTY) AWARDS
December, 2009
This year the National Association of the Remodeling Industry (NARI) selected TreHus as the recipient of two of its COTY awards.
The first award was in the Residential Exterior Specialty Category, and the second was in the Additions over $200,000 category.
Below is a picture of each of the winning projects: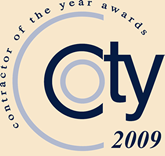 ………………………………………………………………………………………………………………………………………………….
TREHUS WINS TWO 2009 B.L.E.N.D. AWARDS
November, 2009
| | | |
| --- | --- | --- |
| | | The B.L.E.N.D. Award encourages and rewards builders, architects, and homeowners to blend newly remodeled or constructed homes and businesses into the fabric of southwest Minneapolis neighborhoods. A jury of industry professionals and neighborhood residents select projects for recognition. |
"One of the goals many of our clients have is to build in a way that honors the original spirit of their homes and neighborhoods," said David Amundson, owner of TreHus, "It feels good to be recognized for accomplishing this goal."

………………………………………………………………………………………………………………………………………………….
SPRING, SUMMER, FALL: ONE SPACE DOES IT ALL
October, 2009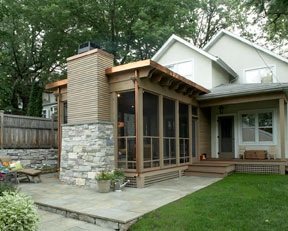 The Southwest Journal featured this three-season screen porch in an
article by Carly Reynolds.
It's summer and the Tait family is together in their secluded backyard porch, enjoying the evening breeze and a good book.
When fall comes they can light a fire in the stone hearth.
The Tait's 250-square-foot three-season porch feels like a summer cabin, with exposed cedar beams and antlers set above the mantel. With the comforts of electricity, overhead lighting and a wood-burning fireplace, it's no wonder the family chooses to spend a majority of their summer in this room.
………………………………………………………………………………………………………………………………………………….
TREHUS WINS 2009 MASTER DESIGN AWARD & HONORABLE MENTION
October, 2009
The Qualified Remodeler Master Design Awards competition was initiated 30 years ago to recognize remodelers, architects, builders, kitchen and bath specialists and other professionals for outstanding project design and construction.
TreHus was recognized with the Bronze Award in the Historic Restoration category and the Honorable Mention award in the Green Remodel category. TreHus believes these awards are an important acknowledgement of their continuing efforts to honor the spirit of each home they work on, and their commitment to environmental consciousness.

………………………………………………………………………………………………………………………………………………….
TREHUS WINS THREE 2009 CHRYSALIS REGIONAL AWARDS
October, 2009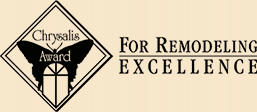 TreHus Architects, Interior Designers, & Builders announce today they have won 2009 Chrysalis Regional Awards for Residential Specialty, Additions Over $250,000 and Residential Historic Rennovation.
"This honor extends a longstanding tradition of craftsmanship at TreHus," said David Amundson, TreHus owner. "While the awards are gratifying, the real satisfaction comes from the relationships we build with our clients and the knowledge that they are thrilled with their transformed homes."
Since 1993, The Chrysalis Awards have honored the finest remodeling projects in the nation that reflect the professional excellence of the residential and commercial remodeling industry.
………………………………………………………………………………………………………………………………………………….
TREHUS WINS 2008 COTY AWARD & HONORABLE MENTION
December, 2008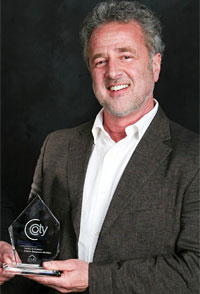 "The competition for these awards is very fierce. I am both pleased and humbled at this show of peer recognition," said TreHus owner David Amundson, left, at the acceptance of the COTY award for Residential Historical Renovation/Restoration in November of 2008. "I am very proud of our team of architects, interior designers and master carpenters. It's their hard work, their thoughtful craftsmanship and passion for design as agents of beauty that continues to win awards, and, more importantly satisfy our clients."
The TreHus COTY award winning architect is Meriwether Felt. She has decades of residential architectural experience and says she is especially proud of this Greek revival restoration entry.
TreHus was also awarded Honorable Mention for their Residential Interior Speciality entry.
Each year, Minnesota remodelers are recognized for remarkable local remodeling projects with the Contractor of the Year Award, commonly referred to as a COTY Award.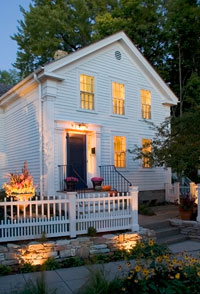 The COTY Awards were established more than a decade ago to foster a sense of achievement and pride among members of the National Association of the Remodeling Industry (NARI) and to increase public awareness of NARI professionals. Remodeling companies large and small have said that winning a COTY is a key factor in enhancing their image within the industry and with prospective customers.
Entrants were judged by a panel of remodeling professionals handpicked by a NARI of Minnesota committee. All entries are judged on functionality, problem solving, aesthetics, craftsmanship, innovation, degree of difficulty, and entry presentation.
The National Association of the Remodeling Industry (NARI) is the only national not-for-profit association dedicated to solely promoting the remodeling industry.